Bookmark This Page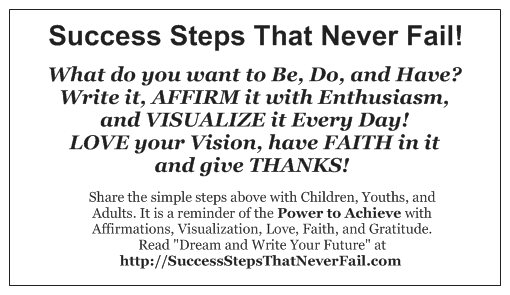 "Dream and Write Your Future" is part of the Free Online Success Workshop
A better community begins with you and me. Many of us don't like the idea of crime in the community, youngsters killing each other, drug dealing, and general apathy, etc. Youngsters are influenced by what they see and experience in their environment that may be negative. They may not be taught to have a positive vision and therefore, do not deliberately use their power to create their destiny.
It is hoped that those who have found this website will take the reins of leadership and use the Free Online Success Workshop that follows to inspire themselves and others to achieve all the good they desire. Read what follows and see how easy it is to do it!
How To Inspire - If your actions inspire others to dream more, learn more, do more and become more, you are a leader .- John Quincy Adams (July 11, 1767 – February 23, 1848)
A place that could do with loads of inspired behavior is our community. How do we inspire ourself, our family, our friends, our neighbors, the youths of our community, and our co-workers? How do we animate, stimulate, invigorate, energize, galvanize and revolutionize them into the best action for themselves and all concerned? One truth stands out from among the thousands of self-help lines tossed around nowadays –
There is no leadership except leadership by example!
We must inspire our community by being a role model of a dynamic, efficient and honest citizen. Modern gurus say – don't work hard, work smart. But to achieve that level of efficiency, one has to work hard and indeed care. Our perseverance and courage will empower our community to step out of their comfort zones and do better. When we exceed our own expectations, those who know us will seek to do the same.
In these harsh recession days, many are watching us and how we are rewarded. If we flash past them in a Ferrari, that is not going to inspire them. But if we take part in knowing what their concerns are and spend time on a workshop or creativity seminar for them, they will be moved and roused by our selfless action. We steer clear of gossip and are respected more if we skip the spin speak and nasty gossip. Instead, it is best to speak of positive ideas.
Businesses and individuals can do something about the negative influences in the communities if only we will, and the simplicity of what we can do should not be overlooked or dismissed! As shown at the top of this page, every business or individual can put a positive message on the back of a business card! Also, simply share, promote, and/or sponsor the free success workshop as much as possible and keep reminding ourselves and our youngsters of the "Success Steps That Never Fail!" which can be memorized as follows:
What do you want to Be, Do, and Have?
Write it, Affirm it with Enthusiasm,
and Visualize it Every Day!
LOVE your Vision, have FAITH in it,
and give THANKS!
We can hold those we know to high standards, but don't expect them to get there overnight. Don't give them praise only to endear them to you.
Praise progress, it will give a lilt to their step and they will love you for it. Talk less and listen more. Empathize with everyone at a genuine level. People have creative minds. Let their inspiration benefit you too.
Invite new ideas, small ones and big ones and award the best ideas, however tiny they may be. Remember, inspire means take in breath and also give life to. When every member of the community gives and takes, breathes in and out, there will be growth.
There is something to be said about helping others practice focusing on their inner power when participating in any activity. "Dream and Write Your Future" is a part of the Free Online Success Workshop.